We offer you folding attic stairs in four standard dimensions for an easy and simple access to your attic.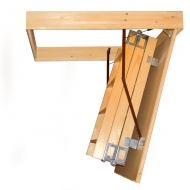 Ladder:  Is made from a quality pine wood. Three ladders are connected together with joint plates, the stair treads are ribbed reducing the risk of slipping.
Cover: Consists of the basic wooden frame and cover that is fitted with white hardboard on both sides. There is a sealing between the frame and the cover.
Hardware: the reinforced metal hardware is installed on the elastic spring.
Technical characteristics:
Ladder inclination: 60° to 68°,
Load capacity of stairs: to 130kg,
Level height up to 270cm.
Standard dimensions of attic stairs:
60 x 110 cm
60 x 120 cm
70 x 110 cm
70 x 120 cm
The stairs are folded one into another after the use and are closed into original position through the help of lifting mechanism and elastic spring.